Original digital capture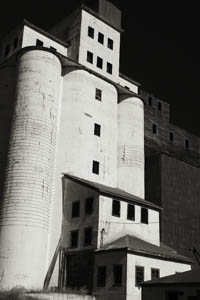 Click on the image to see it larger
What I saw that I liked:
This would be a great image if it were 1942 and I was Wright Morris, or maybe Paul Strand.
What I don't like in the picture:
There are so many great photographers who predate us — and they've done such terrific work that inspires us. But that also means we can so easily copy their styles and duplicate their subjects.
What I learned:
I knew I had a winner in the above — right up to the time I saw it in Photoshop and realized it was someone else's creative vision. Our challenge in this advanced age of photography is to bring something new, something original to photography, if we can. The above is not an example of a "bad" photograph, but it is very definitely an example of a dated one.
The image at left is the same place, about half and hour later as I was trying to find something new to say about this silo. Not great, but at least it's my own.
2nd Chances: What I might try next
Maybe I missed the really great photograph by not climbing up this ladder and taking a peek in the window. Maybe I'm glad I didn't.