Original digital capture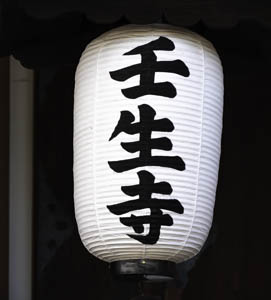 Click on the image to see it larger
What I saw that I liked:
Glowing lanterns in Kyoto.
What I don't like in the picture:
The picture above is of a thing. The picture at left is a place.
What I learned:
Photographing a single thing always runs the risk of it being perceived as an exploration of a class of objects — lanterns, chairs, blossoms, waterfalls — it doesn't matter what the object is.
On the other hand, a group in a single image seems to avoid that. The above image might make sense in a project about Japanese lanterns. The image at left makes perfect sense to be one of a group of images exploring the Nishiki outdoor market — which is where it was photographed.
In essence, the one above could be included with the one at left in the same project about lanterns. But if the one at left is included in a project about the Nishiki market, the one above would become repetitious.
2nd Chances: What I might try next
Do I need to brighten the unlit lanterns a bit?