Original digital capture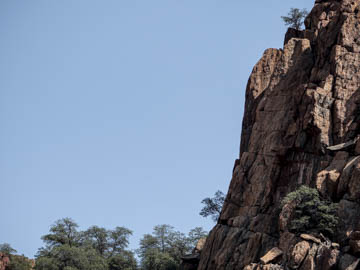 Click on the image to see it larger
What I saw that I liked:
Trees hanging on the cliff
Comment #1:
This is a fairly typical example of my working method in the field. I'll often make 2-3 compositions of a single subject. I'm never sure what I might need, so why not give myself options?
Comment #2:
In this case, I made the one at left first, then zoomed out to make the one above. Which is better? That's the wrong question.
Each image could be the right one depending on the project and the other images in the project. Again, why not give ourselves options during the final stages of the project?
Comment #3
Do these images remind you of anything you've seen before? Those hanging trees on the cliffs in China's Huangshan mountains? There are no new ideas. Well, maybe there are a few, but mostly eveything we might do has already been done. Do it anyway. It'll be your version of it.